FED. SPEC. FF-D-400 TYPE 1
FSN 6530-299-8114
HIGHLAND LABS
MODEL 309
950 TYPE DISPENSER
This foot-operated dispenser is designed to deliver a metered amount (2 cc.) of fluid with each depression of the rubber foot pedal, which transmits air pressure to the metering valve in the bowl to operate the valve. A special air-intake feature prevents dripping after removal of the foot from the pedal.
The dispenser is constructed in such a way that air from the foot pedal never comes in contact with detergent. Depression of the foot pedal exerts air pressure against the bottom of the diaphragm in the metering valve assembly. The diaphragm flexes upward, expelling detergent out of the top of the valve assembly, through the inner tubing which then emits the fluid through the nozzle. Detergent is drawn into the upper chamber on the top surface of the diaphragm of the metering valve assembly by means of a spring, which is released when pressure is removed from the foot pedal. This system precludes contamination of the contents by air from the foot pedal.
INSTALLATION:
Unpack contents of carton carefully.
Remove mounting bracket from back of bowl by pressing lock-spring projection (at bottom of bracket) away from bowl body and slide bracket down. Locate position of wall bracket by trying bowl, with tubing, for desired height and position over sink or basin. Attach mounting bracket to wall or portable metal stand by means of screws furnished in parts envelope, using both top holes and either or both of bottom side holes.
If installation on tile wall is required, drill necessary holes and use toggle bolts to secure bracket to wall.
Mount bowl, with pedal tubing attach by sliding bowl into bracket until it is locked in place.
Position of nozzle may be adjusted by removing cover and loosening set screw on top rim of bowl, then gently re-tighten set screw. Tighten the set screw just enough to prevent nozzle from moving.
CAUTION: THIS DISPENSER WAS NOT STERILIZED PRIOR TO SHIPMENT. After installation and prior to use, the dispenser should be sanitized according to guidelines established by your Infection Control Unit.
Remove cover from bowl and pour fluid in, filling not higher than 1" from top of bowl.
MAINTENANCE AND REPAIR:
Periodic Cleaning:
The dispenser should be cleaned and flushed if the output per stroke appreciably decreases. Remove bowl from mounting bracket by pressing lock spring at bottom of bracket toward wall. Pour liquid from the bowl and refill with lukewarm water. Flush through several times by applying pressure to pedal. Pour out the remaining water, and sanitize according to guidelines established by your Infection Control Unit.
** DO NOT AUTOCLAVE. ALCOHOL SOLUTIONS MAY DAMAGE THIS DISPENSER. **
Improper Functioning:
If the dispenser fails to eject fluid, the following steps should be taken:
Check nozzle end for possible blocking. If fluid has caked in nozzle opening, clear with end of paper clip or applicator stick.
Check foot pedal for leaks. Remove plastic tubing. Hold finger tightly over hole, in end of adapter on pedal and with other hand depress rubber foot pedal. If pedal can be depressed while holding finger over outlet, inspect check valve at back of foot pedal.
Check plastic tubing between bowl and pedal for cuts or breaks.
If the above checks do not correct the faulty operation, change the metering valve as follows:
Remove cover, lift bowl from bracket and empty contents.
Loosen set screw, holding nozzle in place and twist nozzle out of short tube inside bowl, exercising care so that leverage to the nozzle does not crack the plastic of the bowl.
Remove the tubing from the lower outside end of the dispenser by cutting it at the very end of the nipple of the metering valve assembly.
Unscrew plastic nut holding valve assembly in bowl.
Lift metering valve assembly from bowl, carefully save small gasket between bottom of valve and inside of bowl.
Install new 7 inch tubing on new metering valve assembly.
Invert bowl, hold metering valve assembly upside down, place gasket in position and insert key on valve assembly into keyway of bowl.
Install plastic nut (finger tight) to hold valve in place.
Insert nozzle through hole in bowl and force into upper end of 7 inch length of tubing for a distance of approximately 2 to 2 1/2 inches.
Attach tubing, leading from the foot pedal, to the lower end of the metering valve. Slip tubing into place over nipple of metering valve assembly.
Replace bowl in mounting bracket and adjust projection of nozzle to desired length.
Tighten nozzle set screw gently, fill bowl with detergent, replace cover and prime dispenser.
Sanitize according to guidelines established by your Infection Control Unit.
Fill bowl with detergent; replace cover and prime dispenser.
***IMPORTANT***
DO NOT ATTEMPT TO DISASSEMBLE THE METERING VALVE. ASSEMBLY OF THE VALVE UNIT REQUIRES FACTORY EQUIPMENT.
NOTE: Certain fluids, if left unused for sometime, may show discoloration. This is a normal condition and does not affect the usefulness of the detergent.
Bowl Dispenser ( 32 0z)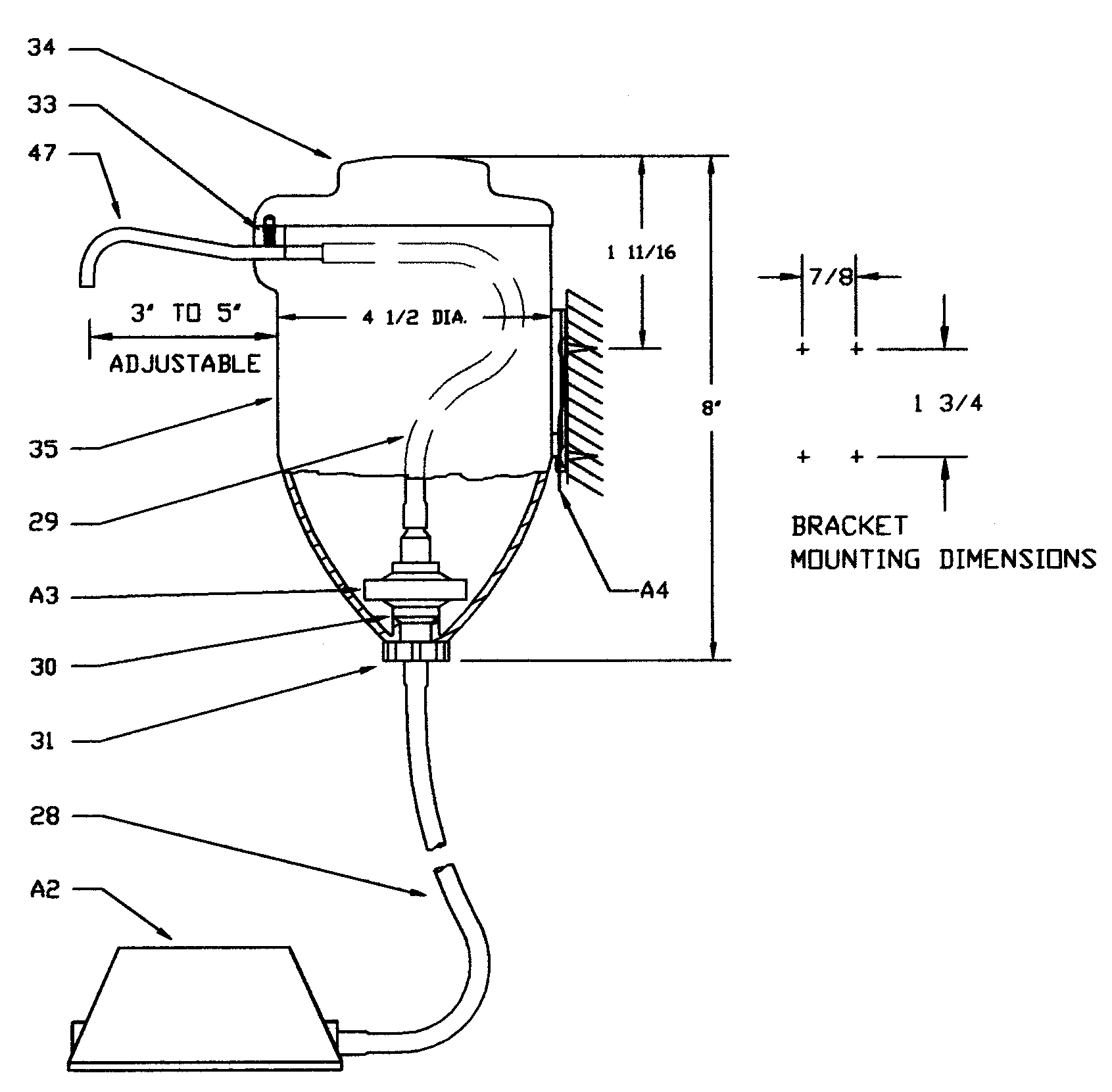 Part #

Part Name

---

A1

Model 309 Refillable Bowl Dispenser

A2

Food Pedal Assembly

A3 *

Metering Valve Assembly & Gasket, blue color

A4

Bracket Assembly (Wall Mount)

28

Plastic Tube, Std. 6"

29

Silicone Suction Tube (7")

30

Gasket

31

Nut

33

Set Screw, Nozzle

34 *

Cover, Bowl, Plastic, blue

35 *

Bowl, Plastic, blue

47 G

Nozzle, Gov't (950 Type)

*

Color, Blue Only
HIGHLAND LABS, INC.
163 Woodland Street
Holliston, MA 01746
508-429-2918 : Fax 508-429-6283