The Model 480 surgical detergent dispenser is designed to deliver a metered amount of fluid with each depression of the rubber foot pedal. A special air intake feature ("sniff-back") prevents dripping after use.
The unique valve ensures that air from the foot pedal never comes in contact with the detergent. Depression of the foot pedal exerts air pressure against a diaphragm in the metering valve assembly. The diaphragm flexes and expels detergent out of the valve assembly and out through the nozzle. When pressure is removed from the pedal, a spring returns the diaphragm to its original position, thereby refilling the valve assembly. This system precludes contamination of the contents by air from the foot pedal.
INSTALLATION/REMOVAL:
Place small dispenser mount #27 on wall at desired location. The word "TOP" and the arrow on the mount indicate proper positioning. Mark location of holes.
Drill holes in wall and attach with the 2 screws in parts envelope.
Insert bracket A3. If wall is not even, top screw may have to be loosened until bracket fits snugly. Bracket will snap into place when locked in by tab in mount.
Attach air supply tube to bracket and foot pedal.
CAUTION: THIS DISPENSER HAS NOT BEEN STERILIZED PRIOR TO SHIPMENT. After installation and prior to use, the dispenser should be sanitized according to guidelines established by your Infection Control Unit.
Screw detergent container into metering valve assembly A2 and depress foot pedal a few times to prime unit.
To remove bracket assembly, pull release lever forward and lift bracket.
MAINTENANCE:
If the output per stroke decreases due to congealed detergent, place silicone suction tube #9 into a container of hot water and depress foot pedal until delivery has resumed to normal.
This dispenser should be sanitized according to guidelines established by your Infection Control Unit.
*** DO NOT AUTOCLAVE. ALCOHOL SOLUTIONS MAY DAMAGE THIS DISPENSER. ***
IF DISPENSER FAILS TO EJECT FLUID:
If fluid has caked in nozzle end, clear with a bent paper clip or an applicator stick.
Check foot pedal for leaks. Remove plastic tubing. Hold finger tightly over hole in end of adapter on pedal and depress pedal with your other hand. If pedal can be depressed while outlet is blocked, then inspect the check valve at back of foot pedal.
Check plastic tubing between bowl and pedal for cuts or breaks.
If the above checks do not correct the problem, change pump assembly A2.
DO NOT ATTEMPT TO DISASSEMBLE THE METERING VALVE ITSELF. ASSEMBLY OF THE VALVE UNIT REQUIRES FACTORY EQUIPMENT.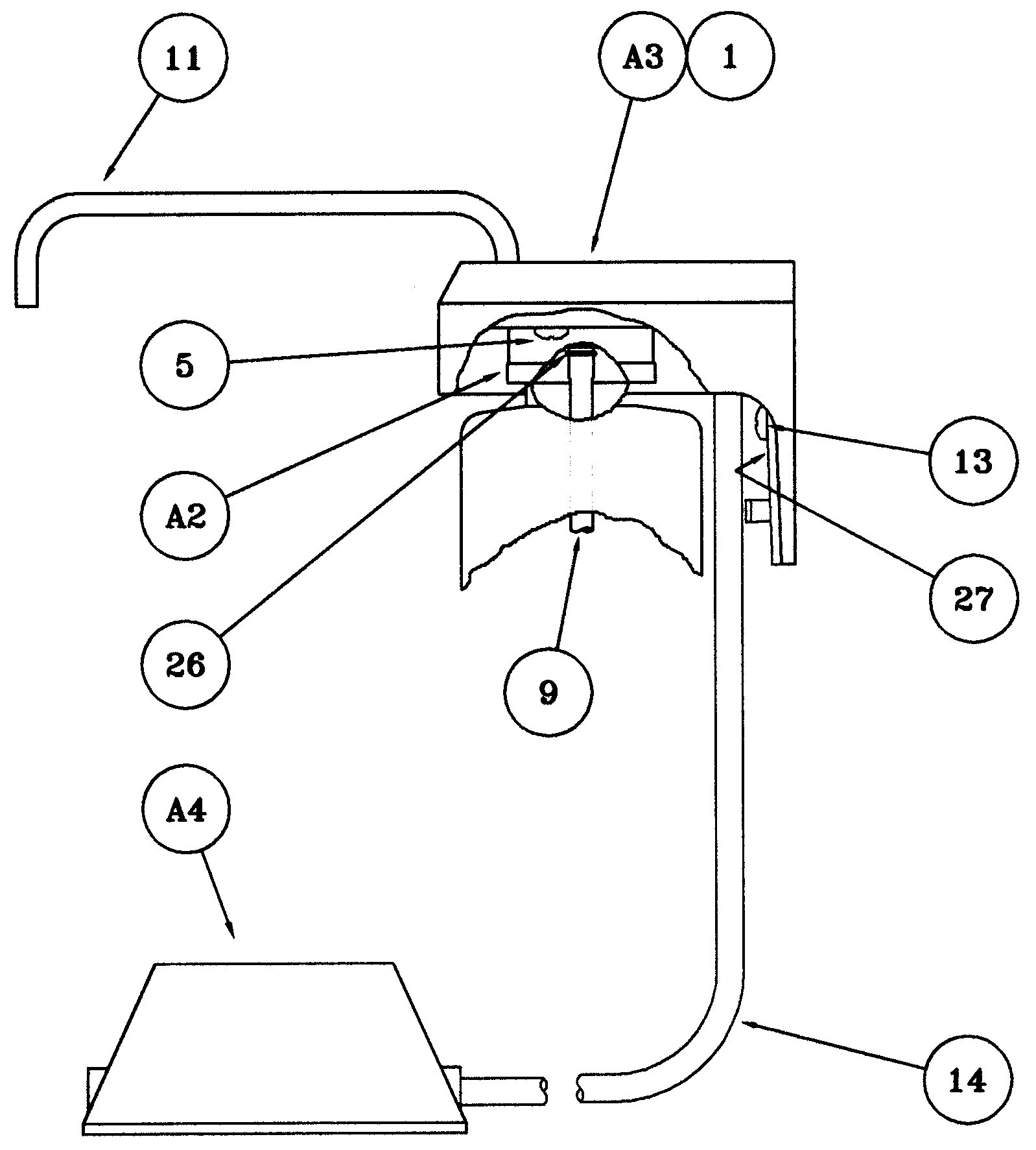 Part #
Part Name

---

A1

Model 480 Wall-Mount Dispenser
[Specify Neck Size]

A2

Pump Assembly & 'O' Ring
[Specify Neck Size]

A3

Bracket Assembly with Pump Assembly (#A2)
and Nozzle (#11)

A4

Foot Pedal Assembly

1

Bracket, ONLY

5

Screw, Pump Mounting Not Shown

9

Silicone Suction Tube Std. [8-5/8]

10

'O' Ring: Nozzle/Pump Seal - Not Shown

11

Nozzle

13

Screw, Mounting

14

Plastic Tube, Std. 6'

26

Clamp Ring (for #9):

27

Dispenser Mounting Bracket
HIGHLAND LABS, INC.
163 Woodland Street
Holliston, MA 01746
508-429-2918 Fax 508-429-6283