Model 488 Dispenser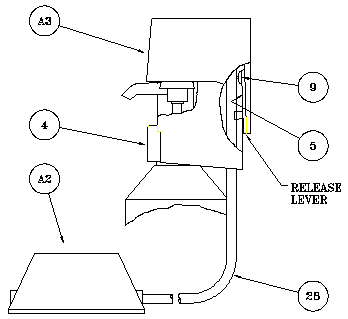 Maintenance/Troubleshooting:
If the plunger is being activated, but not depressing the hand-pump, the problem is with the product bottle.
If the plunger is not activated when depressing the foot pump, verify that the tube is properly attached at both ends before contacting Highland.
Keep clean with mild soap and water; do not autoclave.
No.
Quan.
Description

---

A1
1
Model 488 Wall-Mtg. Dispenser
A2
1
Foot Pedal Assembly
A3
1
Bracket Assy. / Bottle Retainer
4
1
Bottle Retainer
5
1
Wall Mounting Bracket
9
2
Screw, Mounting Bracket
28
1
Plastic Tube 6 Foot
HIGHLAND LABS, INC.
163 Woodland Street
Holliston, MA 01746
508-429-2918 Fax 508-429-6283